Financial investment company launch decentralized ecosystem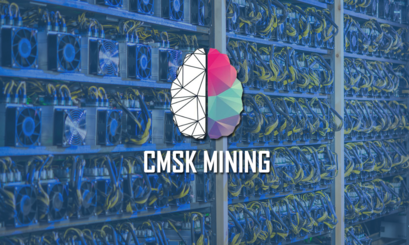 July 28, 2020 —
CMSK Mining is a financial investment company that is headquartered in the UK and operates in many fields such as foreign exchange, securities, and e-money. Since 2019, they have focused primarily on the e-money business in which the company builds coin mining plant systems in many countries around the world. In particular, they have become a trustworthy partner and intermediary linking companies in the same field and their profit reached 300% in 2019.
In the first quarter of 2020, CMSK Mining started to launch their own currency (USDD) for the purpose of using it for commercial transactions of the company, simultaneously creating a common currency to exchange and transact with a great deal of other e-money based on a decentralized technology platform and helping partners facilitate transactions and reduce costs.
USDD, an on-demand anonymity function that works on smart contracts is almost ready to be used. This is one of the proprietary technologies developed on the USDD Chain to ensure comprehensive application in the decentralized financial sector (DEFI).
CMSK Mining's completely new financial ecosystem is built on the use of blockchains, storing digital information in an immutable, reliable, and decentralized network. As same as cryptocurrencies and smart contracts, it doesn't have a central authority, Defi allows people around the world to participate in a range of financial services, such as payments, loans, loans, investments and manage their asset portfolio with greater autonomy and fewer barriers. Developers can create Defi applications (DApps) on the blockchain for the purpose of casting, storing, and managing cryptocurrency assets. Smart contracts bind irreversible agreements between two parties without intermediaries, making the entire financial system solid and transparent.
We can simply understand that our money previously will be primarily managed by banking institutions, commercial transactions, or trading instruments based on the deposit trust model. But, by 2019, gradually we get used to a new term called Defi or open finance (decentralized finance), we can access and use this platform anytime, anywhere without being affected by any people, software tool, or organization. Cefi's assets will be replaced by tokens in the blockchain ecosystem and it will be built on decentralized technology to create clear and non-binding transparency between the two parties.
In 2020, CMSK Mining has collected a number of important data marking the boom period of future Defi models, an irreplaceable future model. It is important that Defi users grew by more than 30% in the first quarter of 2020, and the success of Defi projects will be the basis for CMSK Mining to start building their own projects. CMSK Mining has launched TETHER DEFI (USDD) since the first quarter of 2020 and started using the company's ecosystem on the most advanced decentralized technology platform. However, the old Cefi rules that the company has used since 2014 are still valid in the process of building a community linkage model.
To focus on developing their own currency, CMSK Mining applies a model linking customers and investors in order to increase the currency's value and it is a payment method to help investors earn the most profits. CMSK Mining company will use customers' investments for purchasing highly profitable mines and improving marketing strategies for their own currency in order to generate the most profits for investors. Bonuses will be shared by the company every day, but special bonuses will be given to partners who build the model and put their faith in the company
CMSK Mining has implemented a unique offer for their customers, based on the high level of professionalism of their employees in various fields of information technology. The main direction for the development of their business was the development of their own software and equipment used in a variety of services working through the Internet world network. A significant share of CMSK Mining's profit is the creation, improvement and active use of mining equipment, technologies to reduce the energy consumption of servers and special equipment for mining.
As for the software, the main areas of its application are resources that provide betting services, various trading platforms, poker rooms and other resources that suggest the possibility of working via the Internet. After preliminary setup, this program independently operates on trading and gaming platforms, using the algorithms laid down by the developers to obtain the desired result, thus allowing to increase the Company's profit, without attracting new employees. And CMSK Mining employees can only monitor the maintenance of the equipment. This system of work is revolutionary and does not have real competition in the market now, which makes CMSK Mining unique and even more interesting for the end user.
Contact Info:
Name: Andrew Farmer
Email: Send Email
Organization: CMSK Mining Company
Website: http://www.cmskmining.com
Release ID: 88970306